Cruise lovers haven't even had a chance to sail aboard the first ship on this new – and much anticipated – cruise line. The Scarlet Lady launched a year ago just moments before the travel shutdown, and guests are still waiting to find out what it's like to cruise the adults-only, Virgin Voyages way.
That hasn't stopped Sir Richard Branson's disruptor cruise line from continuing to build its fleet of what – in a twist of British cheek – it's calling 'lady ships'. So of course, they seized upon International Women's Day to unveil the 'Resilient Lady.'
"Virgin Voyages is announcing Resilient Lady on International Women's Day to symbolise the spirit of its Lady Ships, and to celebrate women and their achievements, strength, leadership and resilience. Resilient Lady has a bright future ahead of her, as Virgin Voyages' second ship to sail the Mediterranean (after her sister ship Valiant Lady)," the cruise line said in its announcement.
The Resilient Lady is due to launch in the summer of 2022, and will be identical to her two sister Lady Ships.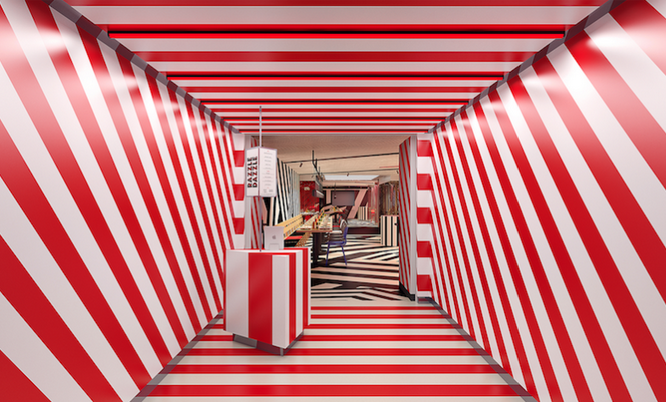 Nearly 3000 passengers will sail in Branson's 'rebel luxe' style, with more than 20 included restaurants, (no buffet and no 'main dining room') champagne on demand at the push of a button, the first tattoo studio at sea, tables in suites designed to dance on, not a Broadway show to be found, but instead, a music festival-like lineup of all-new completely original Events & Gigs developed by some of the world's most-talked about producers, directors and artists, and a'detox/retox' lifestyle the celebrity CEO has made famous.
When cruising starts again, Virgin Voyages' first Lady Ship, Scarlet Lady, resumes her inaugural season from its Miami homeport on long-weekend-type itineraries that include a late-night call at the cruise line's new private beach resort in Bimini, the Bahamas, an Ibiza-style/ music festival inspired experience with DJ's and bonfires on the beach.
Valiant Lady, Virgin Voyages' second ship, is scheduled to debut in 2021, embarking on three different itineraries from her homeport in the heart of Barcelona. All her itineraries in the Western Mediterranean include overnight and late night stops across some of the hottest destinations in France, Italy and Spain, like Ibiza, Monte Carlo, Marseiile, Malaga, Gibraltar. So 'sailors' – what Virgin Voyages calls its guests - will have the flexibility to take in a big night out, a chilled beach day, bohemian markets, or a serene spa.
"Sailing in the Med is such an extraordinary experience, and we're so excited to bring the adventure of a Virgin Voyage to this beautiful place," Sir Richard Branson says.
Where Valiant Lady sails the Western Med, the Resilient Lady focuses on the Eastern Mediterranean in two itineraries that give guests a rebel-luxe experience of Greek island-hopping sailing from her Athens homeport. Imagine exploring the most famous Aegean Sea's islands of Santorini, Rhodes, Crete and Mykonos, with an overnight stay in that legendary party destination as the ship remains docked in a premiere location with access to the island's picturesque promenade. On the ship's other itinerary, she sails west from Athens to the Adriatic, including an after-closing-time departure from Dubrovnik so sailors will have plenty of time to experience the rich history of Croatia during the day and take part in the active nightlife, before scenic sailing to Kotor, Corfu and Argostoli.
With the announcement of the Resilient Lady, Virgin Voyages has charted a course for forever-young 'sailors' to replace jet-setting trips to famously 'island party'/ music festival destinations with its new style of marine travel that brings 3000 like-minded new friends to the party with them.
#DreamNowTravelSoon
Images courtesy Virgin Voyages
Where do you want to go?
You Should See
Popular Posts