With flamboyant Sir Richard Branson at the helm, the 2020 launch of Virgin Voyages is one of the most anticipated events in travel. The party-loving, trend-setting celebrity entrepreneur promised his latest travel venture would do to cruise what Virgin Air did to flying: rediscover a whole new level of tongue-in-cheek, escape-with-your-friends-to-a-private-party fun.
Only this time, at sea.
Bookings are now open for the inaugural season of the Scarlet Lady, the first Virgin Voyage ship, in April 2020. The ship's homeport is a splashy and stylish new terminal in Miami. From there, she sails to the Caribbean.
(Photos: Virgin Voyages)
No typical 7 or even 10-day cruises, though. Intensive, 4 and 5-night itineraries featuring an overnight in Havana, or 5-night voyages to Costa Maya or Dominican Republic.
And we're getting other details about how Virgin Voyages is breaking the mold and re-inventing cruise travel, dare we say it? for more 'millennial' tastes. But we know just about everyone is interested in cruising Richard Branson-style: youthful, fun, non-traditional and high energy.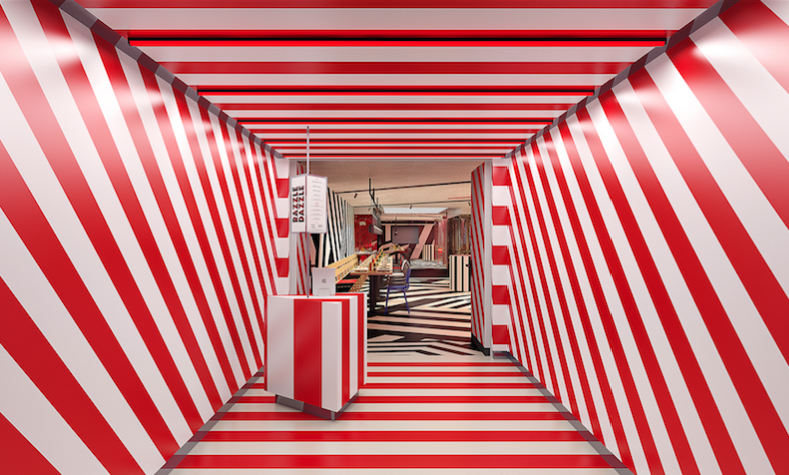 Virgin Voyages is introducing lots of new cruise experiences. But just as intriguing is what you won't find on a Virgin Voyage:
No Kids
'Adult-by-Design' Virgin Voyages limits its Sailors and lifestyle to the over-18 crowd. It's where 'Party with your friends on a private island or a pal's yacht' meets 'fabulous new music festival', on a yacht-inspired ship with 2700 other young-at-heart 'Sailors'.
No Buffets and No Main Dining Rooms
Rejecting two mainstays of cruise dining, Virgin Voyages instead aims for informal 'discovery' dining. Sailors will find over 20 restaurants, designed and curated to capture the spirit of the dining experience in a world-class city. Restaurants include mid-century martinis and steak, psychedelic-style vegetarian, 'Extra Virgin' modern Italian, Mezze at the Dock, and internationally-inspired food truck fav's, even 24 hour room service.
No Restaurant Surcharges
Whether you're dining in a restaurant, a seaside lounge or casual eatery, it's all included in the cruise fare, to allow Sailors the widest freedom to personalize your cruise experience.
No Broadway Shows
Another example of how Virgin Voyages is not your grandparents' – or parents' – cruise line. Richard Branson flexes his music industry background for a completely different set of evening entertainments: a nightclub named after his first music studio The Manor, DJ evenings in the spa, transforming the thermal suite into a one-of-a-kind maritime party, and a festival-like lineup of all-new completely original Events & Gigs developed by some of the world's most-talked about producers, directors and artists.
No Tipping Required
Gratuities are already baked into the cruise fare, too, for a no-surprises, full-service cruise bill, something normally only offered on the highest end luxury cruise lines.
No Cost for Wifi
Forget unplugging. Virgin Voyages celebrates today's digital lifestyle and facilitates every selfie you could ever hope to post – without an extra bill or counting how many more minutes of internet you have available.
No Plastic and no Bottled Water
From the outset, Virgin Voyages' goal is to have the cleanest fleet at sea. No single-use plastic or packaging, no bottled water or beverages, investments and partnerships in clean technology and an practice of re-useable service items.
Instead, Virgin Voyages boast:
A Detox-Retox Philosophy
The good life at sea, Virgin Voyages style, may keep you up late at night partying, and re-setting your body by day at the outdoor Athletic Club complete with boxing ring, the largest daybed at sea, and a yacht-inspired catamaran net lounge, a 'Crow's Nest' sundeck for sunrise and sunset yoga practice, a 'Runway' standalone 'halo' running track over the ship where skaters are welcome, a wellness pool area, even an on-deck adult playground/ fitness apparatus and the 'Gym and Tonic' bar with both cold-pressed juices and craft cocktails.
Exclusive Island Experience… Sorry, not Necker
All voyages will spend a day at Virgin Voyage's exclusive Beach Club on the island of Bimini in the Bahamas. It's not Richard Branson's own fabled Necker island, but it is designed to rival beach clubs of Ibiza and Saint-Tropez with idyllic lounging and high energy DJ flotilla and pool parties, bonfires on the beach and a final acoustic musical performance before sailaway.
The Only Tattoo Parlor at Sea
Forget getting your hair set for formal night, but don't throw perfect grooming out the porthole. The Scarlet Lady has salons for men to get that indulgent hot shave or expert beard trim, and for women to get a blow out after a day of swimming, exercise, pool lounging and wind-swept fun on deck. It also introduces the playfully-named tattoo studio 'Squid Ink' - because why wouldn't you want a tattoo or new piercing to commemorate your Virgin Voyage?
Richard Branson's Birthday Party
Maybe the most memorable Virgin Voyage will be the one with Sir Richard Branson himself! You can join him on board to celebrate his birthday among celebrity friends and fellow Sailors aboard a four-night Havana After Dark voyage departing July 15, 2020.
Start your Trip!
Copyright BestTrip.TV/Influence Entertainment Group Inc or Rights Holder. All rights reserved. You are welcome to share this material from this page, but it may not be published, broadcast, rewritten or redistributed.
Where do you want to go?
You Should See
Related to Caribbean, Anywhere
Popular Posts